Like many others in the pest control business, Monica Malone has seen a big uptick in rodent control calls in the past few years. Today, they make up about 30 percent of her employer's business, J&J Pest Control, which serves the Austin, TX metro area.
Malone faced a challenge with the rodent bait she'd been using for the past few years. Non-target animals, mostly cockroaches and snails, loved it and constantly fed on it, but she doubted the rodents liked the bait as much. J&J's general manager tackled that challenge in June when she decided to give VM Products' EZ Block rodent bait a try. From the outset, she was impressed.
In the Austin metro area, roof rats and house mice populations have increased with the growing city, Malone says. For a long time, they were mostly limited to urban areas, but now more calls are coming from the suburbs, too. With J&J in business since 1987, it's critical for the company to have the best tools available to its 10 technicians in order to maintain its reputation as a quality pest control enterprise. EZ Block has become a valuable tool for J&J by helping technicians improve communication with clients about the level of rodent infestation at any given time and whether an infestation is being brought under control.
During inspections and follow-up visits, technicians have also noticed fewer non-target insects devouring the EZ Block, which is also welcomed by Malone and her team.
Malone's technicians follow EZ Block's label for application guidance and place the bait about 15 to 30 feet apart along rodent pathways between food sources and nests. Baits are secured inside VM Products' EZ Versa bait stations. The station keeps the all-weather Bromadiolone block in a safe place away from elements that may erode the bait as well as prevent human and other non-target species contact.
One reason PMP's enjoy success with EZ Block is because it's cooled after compression for a harder surface, making it more difficult to disintegrate and melt. The bait is also designed with a hole in the center of the block to make it easy to secure in a bait station. PMPs also appreciate working with a formulation that requires no mixing prior to use.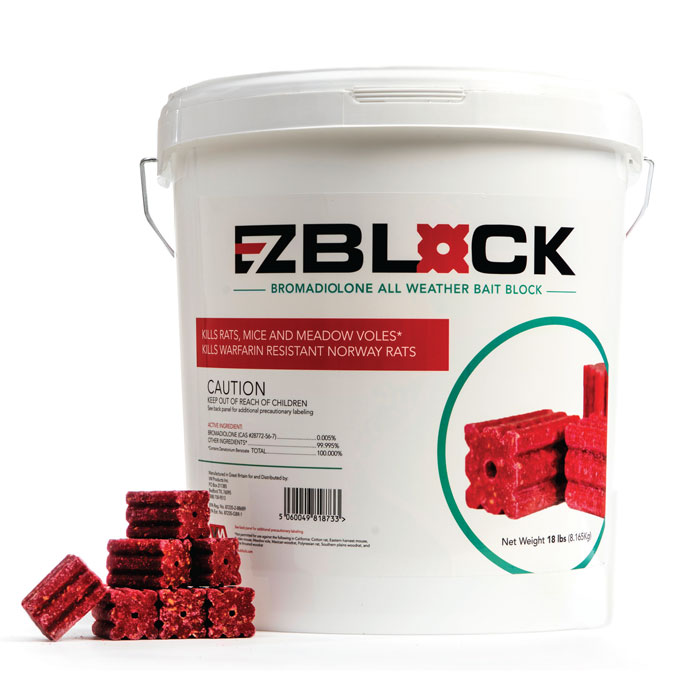 After about five months and a growing list of satisfied technicians and happy customers, J&J technicians have used hundreds of EZ Block baits, a trend that won't stop anytime soon.
"We're very happy with it. I'm not buying another bait product now," Malone added.